Namaste guys,
I am happy to share my first post in the flavors section here at Viajando Fácil. And nostalgic for sharing this recipe that reminds me of the memories of 2015, the first time I went to Thailand. Since then, there have been 6 other visits to the country that have only increased this love for Thais, for culture, energy and, especially, gastronomy. 
With a name as peculiar and exotic as its flavor, Khao Pad is the traditional Thai fried rice that can have different preparations and flavor combinations, but this dish is one of the most beautiful portraits of the richness of Thai cuisine.
This different mixture, together with the traditional bittersweet brand in its dishes, provides an explosion of flavors and brings together some of the main ingredients found in the country.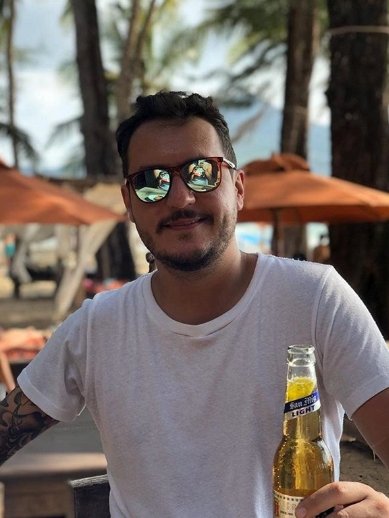 Guilherme Mota at Phuket 2020
The fish sauce adds a unique flavor to the recipe… the light spice mixed with sweet touches enhance the flavor… the contrast between the soft pineapple and the crispy chestnut also makes different textures of the dish clear… finally, a beautiful and colorful presentation makes the experience even more special ending. Enjoy!
1 whole pineapple;
2 cups of rice (preferably jasmine, ready-made rice and "stale" overnight);
400 grams of medium shrimp;
2 tablespoons soy sauce;
1 tablespoon Fish Sauce;
1 teaspoon of Tamarind Sauce;
3 cloves of garlic;
1 small piece of ginger;
3 eggs;
1⁄2 cup of broken cashew nuts;
1⁄2 cup of raisin;
1⁄2 cup of frozen peas;
2 seedless diced tomatoes;
Oil, salt, black pepper, spicy paprika, chives and cilantro
1- Cut the pineapple in half and remove the pulp with the aid of a spoon and knife. Reserve 2/3 of the diced pulp for preparation and brown the pineapple bands in a skillet with butter.
2- Fry the scrambled eggs in a wire of oil without letting it dry too much and set aside.
3- Sauté the onion in oil for 1 minute and add the crushed garlic, grated ginger, paprika, salt and pepper.
4- Sauté the prawns and when they are pink add soy sauce, tamarind and fish sauce.
5- Add the peas and cook for 1 minute. Add the ready-made rice and mix carefully to incorporate the ingredients.
6- Add chestnuts, raisins, pineapple and scrambled egg.
7- Unplug the pan and add the tomatoes, coriander and chives by gently stirring.
8- Serve in the cut pineapple halves.
This rice is in my daily orders there, from street stalls to more refined restaurants. I hope you enjoyed the recipe and will be able to make this delicious dish at home, for your friends and family.
Send us pictures if you do! Let's post here!
These photos below, was from the day I "I had to test it" the measurements of the recipe before passing it on to you!
I recently discovered another wonder, Tom Kha Gai, a soup basically made of coconut milk and ginger and lemon grass base, which I went to try for the first time in Tumz Seafood in Phuket earlier this year (but this recipe and experience will go to another post). A light and tasty recipe that matches even better with Thailand's paradisiacal beaches.
Do you want the recipe?