One of the most famous and curious temples in India is the Golden Temple, which is in the city of Amritsar.
We will tell you some curiosities of this temple and ask you a question at the end. Let's test your traveler's knowledge:
1. It is not a Hindu or Buddhist temple. The followers of this temple's religion should visit it at least once in their life.
2. This temple is built of white marble covered with a layer of gold
3. It is located in northern India, in Amritsar, a city near the border with Pakistan
4. It is open to people of any religion, nationality, sex, color or race. To enter, you must cover your head and shoulders, remove your shoes and sit on the floor as a sign of respect.
5. The temple provides free vegetarian food for all pilgrims and people who want to eat.
6. Your kitchen is known as "the biggest free kitchen in the world". About 100,000 people eat daily at the temple.
7. The maintenance of the temple is done through volunteers and donations made by followers of this religion around the world.
[forminator_quiz id = "2501"]
Do you know anyone who practices this religion?
Share your answer with us in the comments and tell us what you would like to know about the largest free cuisine in the world.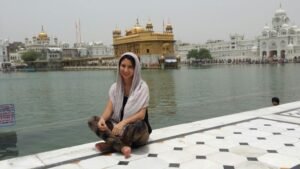 The Golden Temple does not sleep!
The Golden Temple is open 24 hours a day. The day I took this photo, I arrived at the temple at 3 am to see the dawn and to accompany the morning prayers and rituals. Even at this time, the temple was already full of believers and visitors. It was a wonderful experience!