When planning a trip to India, especially if we are going for the first time, the beach is not a destination that comes to mind. However, there is a state in the southwest of the country, called Goa, a super famous place with Indians and foreigners to spend holidays, full of beaches and palm trees.
Goa it stands out for its nightlife, many restaurants of all types of food and a wonderful beach city atmosphere, like those charming towns in Bahia.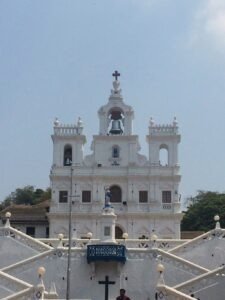 Curiosity: This state was a Portuguese colony until 1961, so you will feel at home when you see several words and names in Portuguese written on street signs and road signs. But make no mistake, almost nobody speaks our language there.
There are also several tourist places, such as Fort Iguada and several churches such as Nossa Senhora da Conceição (The Church of Our Lady of Immaculate Conception). 
Oh, and if you like to enjoy a beautiful sunset, go to Chapora Fort. 
If you are in Delhi there are daily flights, approximately 2: 30h in duration.
If you are in Mumbai, you can choose to take the car and drive (they say it is very worthwhile), for about 12 hours. There are also daily flights of about 1: 30h in duration.
Note: Editor's note
If anyone there is excited to make this 12-hour drive between Mumbai and Goa, in the very organized Indian traffic (please note the ironic tone of the expression), we would love to receive images and reports of the journey!
The north of Goa is very popular, most restaurants, nightclubs, hotels and tourists are there. The best beaches, in my opinion are Ashvem and Arambol, further north, as they are cleaner and more empty.
Beaches like Anjuna and Vagator are not as crowded as the most popular beaches, Baga and Candolim, and still have a good infrastructure to enjoy the day at sea.
In the south, there are many beautiful beaches, much more empty, like Palolem Beach, but there are not many restaurants, markets etc. 
The best way to get around Goa is to rent a scooter (small motorcycle with automatic gear). The rent is very cheap, as well as fuel and they are available everywhere.
Another option is to rent a car, as it is not very expensive and makes it easier if you are staying more than one beach.
I don't particularly advise taking a taxi there. There are no regulations, so they charge absurd amounts for short distances, and the drivers are not very reliable.
I visited Goa every year, from 2014 to 2018 (5 times) and every time I want to stay longer. I have often thought about moving there! 
Goa it is a destination for every type of traveler, as you will find excellent restaurants, of varying prices and great places to stay, from hostels to 5 star resorts.
So, how about including Goa in your trip to India?